Principal Investigator – Dr. Nancy Shadick
Dr. Nancy Shadick is the Director of the BRASS Registry and has been at Brigham's Arthritis Center for 13 years. She divides her time between research, seeing patients and teaching aspiring doctors. She is an epidemiologist and health services researcher and sees patients with lupus and other bone and joint diseases. Before BRASS, she worked on several large Lyme disease research studies with thousands of subjects on Martha's Vineyard and Nantucket, and has published on lupus, RA and Lyme disease. Currently, she is the principal investigator of a Lyme disease prevention program for elementary school aged children. Dr. Shadick attended New York University for medical school and did her residency at Columbia—also her undergraduate alma mater. She is originally from New York. She lives with her husband, an infectious disease doctor at the University of Massachusetts, and her two children.
Principal Investigator – Dr. Michael E. Weinblatt
Dr. Michael E. Weinblatt, Co-Principal Investigator, has been at the Brigham for 27 years. His major research interest is therapeutic interventions in RA, and he has published over 130 articles and reviews, primarily focusing on RA. In 1997, he received the Arthritis Foundation Virginia P. Engalitcheff Award for Impact on Quality of Life for work on methotrexate. In 2005, he received the Carol Nachman Prize for his work on the development of methotrexate therapy for RA. He served as an Associate Editor of Arthritis and Rheumatism. In 2001, he was president of the American College of Rheumatology. Dr. Weinblatt is also an avid cyclist and has cycled across the U.S. twice.
Project Manager – Christine Iannaccone
Christine Iannaccone, the team's project manager, has been working in research for more than 10 years. She came to the project from the Harvard School of Public Health where she was managing a Prostate Cancer Survival Study. Christine received her Masters of Public Health from Boston University School of Public Health and also has a Bachelor of Science degree in Nutrition and Clinical Dietetics from Simmons College. She became interested in rheumatoid arthritis genetic research when a family member was diagnosed with the disease. When Christine is not working, she enjoys running, hiking, biking and spending time with her husband, daughters and dog Bailey.
BRASS Staff
Miranda Girard graduated from Worcester State University in May 2014 with a degree in Biology. Before joining the Brass team in October 2014 as a research assistant, she was working as a medical lab assistant. Miranda plans on attending nursing school in May 2017.
Gabriela Maica graduated from Dartmouth College in May 2014 with a Bachelors of Arts in Italian Language. She joined the BRASS team in July 2015 as a research assistant after working as a paraprofessional in Brookline Public Schools. Gabriela plans on attending medical school.
Adel Andemeskel, graduated from Stanford University in May 2017. She was an intern in the summer of 2016 for Dr. Karen Costenbader through the prestigious Brigham Research Institute Summer Internship Program. Adel plans on attending medical school.
Taysir Mahmoud, the team's data manager, has been working in research for more than 4 years. She came to the project after graduating from Wellesley College with a degree in psychology and biology. Outside of the Brigham, Taysir is a national fencing referee and she also enjoys going to the movies.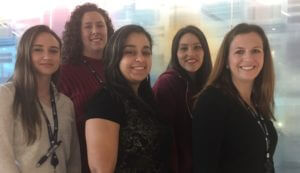 (left to right: Miranda Girard (Research Assistant); Michelle Frits (Sr. IT Analyst); Taysir Mahmoud (Data Manager/Research Assistant); Gabriela Maica (Research Assistant); Christine Iannaccone (Sr. Project Manager).